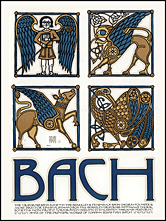 Click on image for detail
#(26) BACH:
Edition of 250 of which 25 copies are signed.
1973 Five colors 18" x 24"
Client: Tom Luddy, The Pacific Film Archive, University Art Museum, 2625 Durant Avenue, Berkeley CA 94720. Telephone (510) 642-1413 All signed copies to The Poster, San Francisco

(Communication Arts, January/February 1977; Library of Congress 1988 Engagement Calendar; Guided Listening, Eleanor R. Hammer, Wm. C. Brown Co., 1990) (facsimile)

Second edition of 3749 of which 26 copies are signed A-Z as artist's proofs, and five sets are signed as progressives. Text modified to change the poster from advertising a film to advertising the California Bach Society.
Irish stonework and a bit from the Book of Kells seemed just right for the Fifth Evangelist, as Bach has been called. Matthew, Mark, Luke and John and Johann. The first edition of this design was for a sedate film about Anna Magdalena Bach, shown once or twice at the Pacific Film Archive and so crashingly dull that it played nowhere else, far as I know. The poster's reincarnation as general publicity for the California Bach Society came somewhat later. Artists probably invented recycling.